Ever wondered how all these famous vloggers constantly have fresh music for their vlogs?
Well today I'm going to show you exactly how they do it so that you don't have to scour the internet searching for cheap, royalty free, and copyright free YouTube music!
Soundcloud is a place where musicians post their latest tracks for others to listen to. You can search for music, filter by type and favorite any track that catches your ear.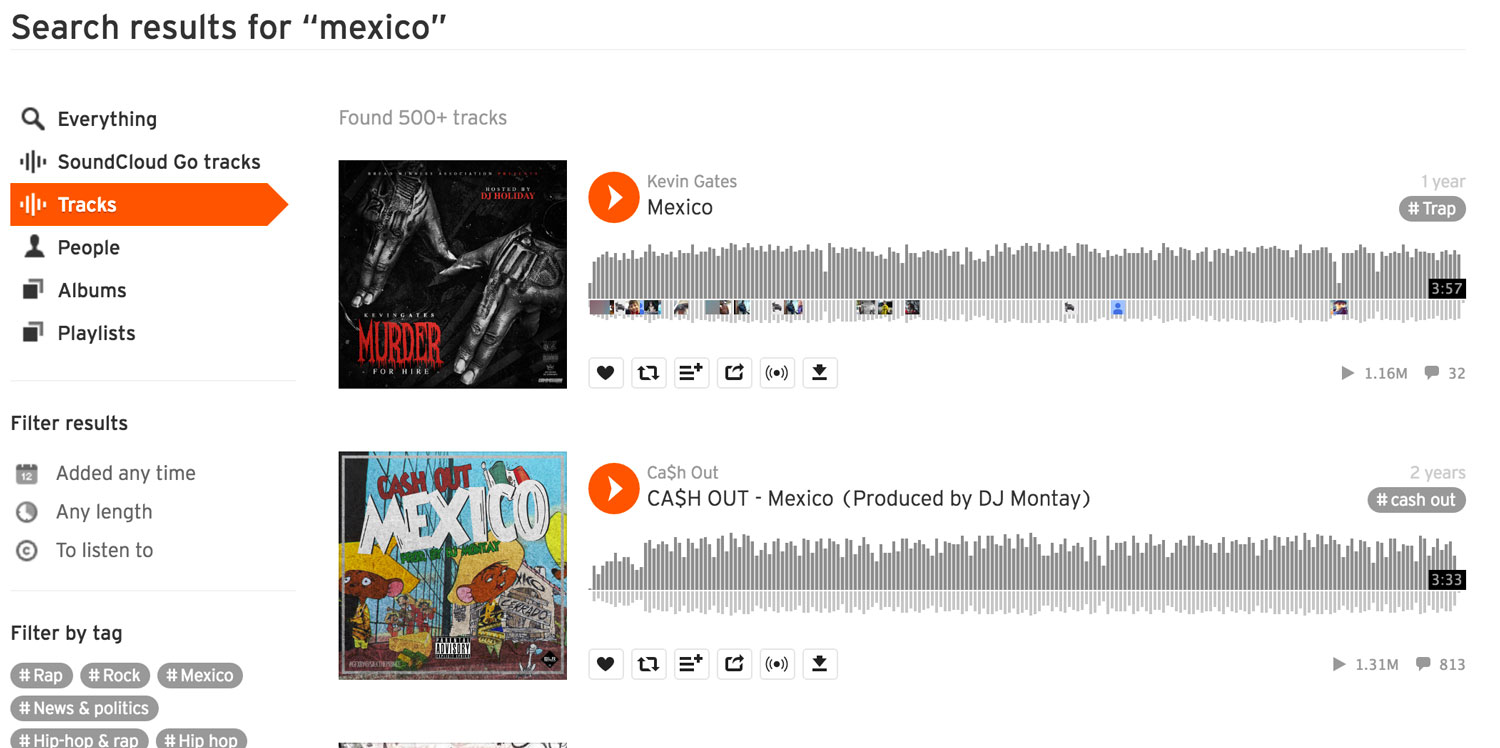 But how do you use these songs in a YouTube video? Doesn't that violate copyright?
Yes, it absolutely does, unless you have permission from the artist.
Permission is actually really easy to get! Once you find an artist you like, just send them a message via Soundcloud asking them if you can use their music. Here's the template that we use, which has worked around 90% of the time:
--
Hey there, loving the beats! Really great stuff :) I was wondering if I'd be able to use them in my YouTube travel vlogs? We don't monetize just yet but we might in the future. I'm also more than happy to pay for each song and to credit you in the description of each video if you'd like :D Let me know if that's okay. Thanks!
Here's our channel btw if you're curious https://www.youtube.com/channel/UCEDrRCC0qRtPd5-sSa1hajw
--
Most of the time, artists are totally cool with this and they allow me to use any of their tracks for free, so long as I credit them in the YouTube description.
If you look in the description section of most YouTube vlogs, you'll usually see something like this: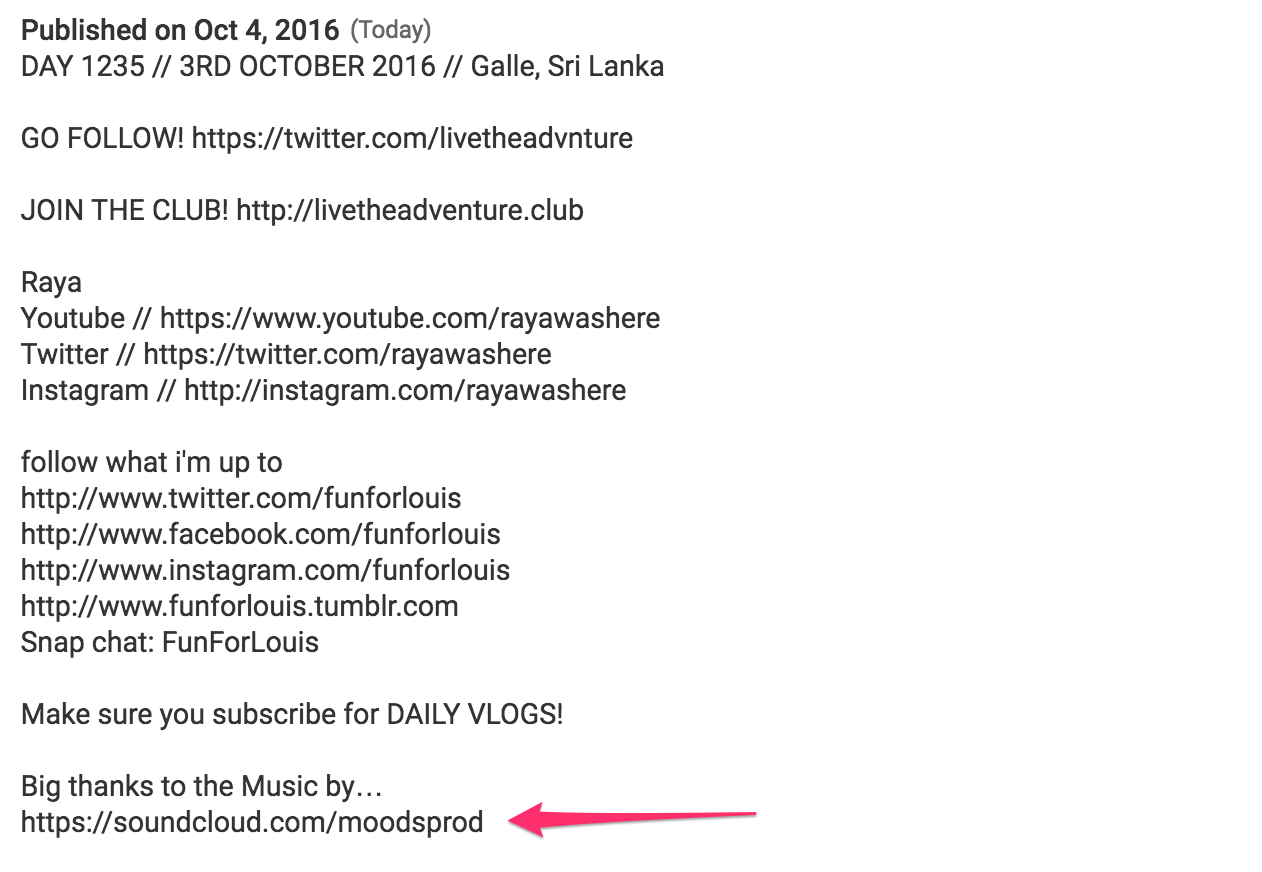 Sometimes an artist will ask me to buy each song that I use as well as give them a credit in the video description. If the music is good enough, I'm fine with this. Most songs are usually a steal at ~$1. I typically buy tracks through Bandcamp, but you can use whatever site the artist has their music on.
Before you message an artist
Make sure you read through their about section to the right of their SoundCloud profile. Some artists clearly state their usage terms there. This is great because it means you don't have to waste time asking for permission, you can just start using their music for your YouTube videos immediately!

Do You Want More YouTube Subscribers?
Our FREE 7 day email course will give you all the tips & tricks the pros use to grow their YouTube subscriber count and gain more views!
The best way to find new artists
You can definitely use Soundcloud's search features to find new artists, but there's actually a much easier way to find great new artists that fit your channel's vibe.
Here's how you do it:
Next time you're watching your favorite vlogger (funforlouis, mrbenbrown, caseyneistat, etc..), take a peek at the video description. You'll usually see a little section where they credit the music producer, which typically links to the producer's soundcloud.
BOOM, you've found a new artist to use in your vlog. Send them a message, get permission and you're good to go!
BONUS TIP: Subscribe to notifications from artists on band camp and you'll get an email every time they release new music. This has been a long term source of new music for us and our channel.
Some of my favorite artists
To get you started, here are some of my favorite artists from SoundCloud that I use in my vlogs. Keep in mind their music is not free to use in your vlog! You have to message them yourself and get permission before using any of their songs.
Further Reading
Check out these other guides we've written on improving your YouTube Channel and Videos:
---
That's it! Hopefully you've found this helpful and, at the very least, now you don't have to always dig through YouTube's free sound library (which quickly gets very stale).
If you have any questions or have something to add, drop us a comment below or shout out to us on Twitter.
Thanks for reading!
---
We're traveling the world and vlogging the entire thing! To follow along on our journey, you can subscribe to our travel vlog on our YouTube Channel or subscribe to our blog.
Thanks for reading, we'll see you on the road!