Cruising in one of our absolute favorite ways to travel. You have your accommodations, transportation, meals and entertainment all sorted for the entire trip, meaning you can spend less time planning and stressing and more time working on your vacation bod and putting together the perfect vacation wardrobe!
Plus, it makes budgeting for your vacation super easy since almost everything's included and arranged ahead of time.
Some ships are more comfortable than others and the MSC Seaside, which we recently cruised on, was definitely on the comfortable side.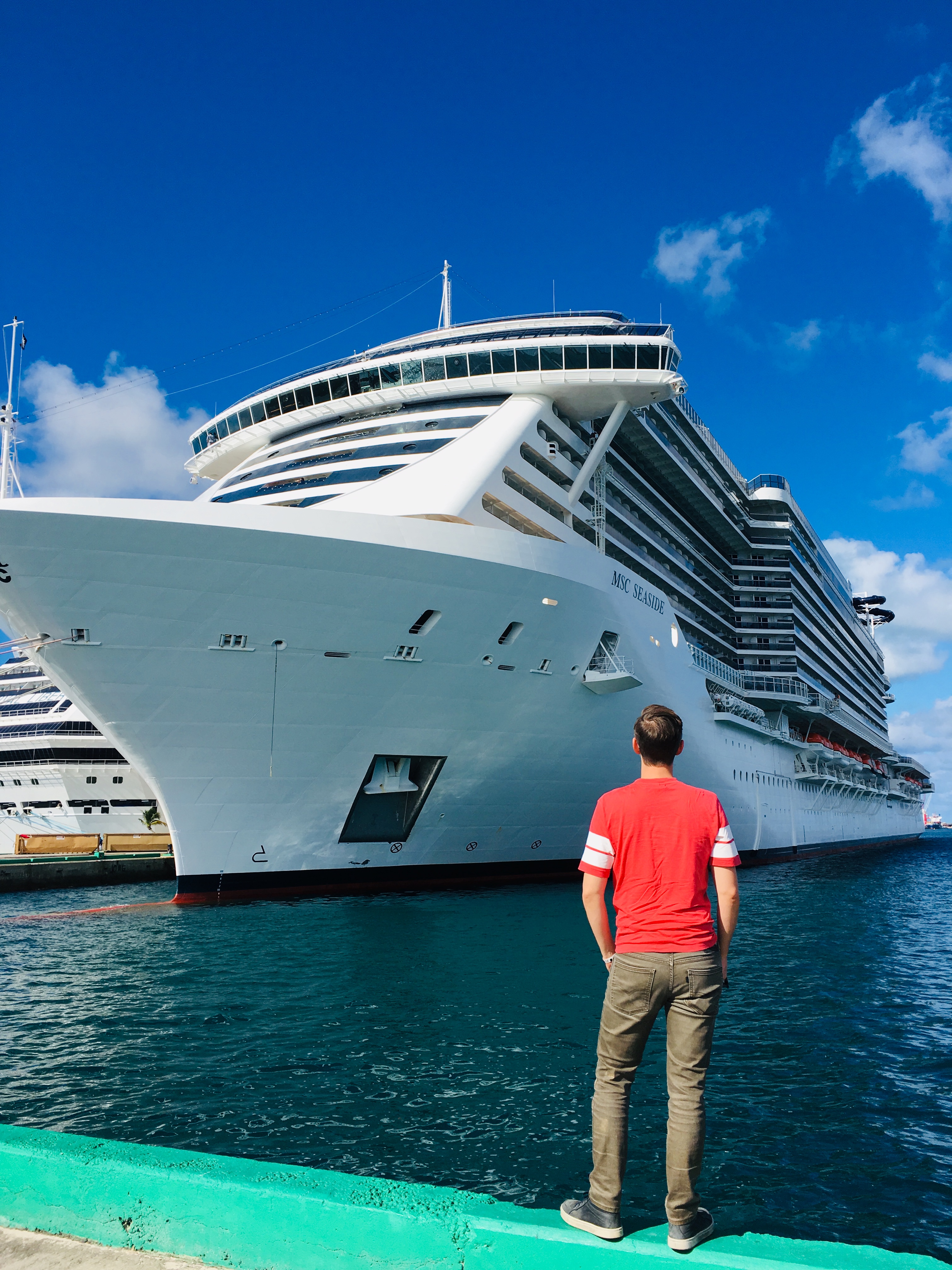 Our favorite things to do when we first board a ship are grab a celebratory welcome drink, check out our cabin, tuck our luggage away and then start exploring every nook and cranny of the ship. We of course do a bit of preliminary research before boarding to see what kinds of restaurants, entertainment, activities and bars to expect, but seeing the ship layout on a website and actually standing onboard are two very different things. Luckily Seaside has taken exploring their ship to a whole new level by installing interactive screens all over with a detailed map of every floor from aft to forward, top to bottom. It's essentially your cheat sheet for quickly finding your way from the buffet to the bar and back to your room, no matter how many drinks you've had ;)
After taking the first night to explore the ship and get our bearings, we decided to jump in the next day and start taking advantage of everything it had to offer. You can watch the full video below of us exploring the ship, or read on if videos aren't your thing.
Forest Aquaventure Park
First up was the huge, top-deck waterpark. Since we were up there early, there was hardly anyone there so we had fist pick of all the slides. Oh ya, did we mention that there are five waterslides onboard? (There are also pools and hot tubs galore, but we were way too excited to lounge around in a pool just yet.)
Gym
After riding down every slide about 50 times, we caught a glimpse of ourselves in the elevator mirrors and decided we should work on our pool bods a bit, so we visited the gym. Since the MSC Seaside is less than a year old, everything there was in pristine condition - no broken equipment or stained yoga mats in sight. There were plenty of treadmills, elliptical, weights and strength machines to go around.
Bridge of Sighs
After some caffeine and much needed showers, we were all cleaned up and ready to keep exploring. We always love checking out the views from the top deck or the ships we're on, and Seaside probably wins for having one of the most epic ship views we've ever seen. At the aft (the back of the ship for non cruise peeps) there's a 16 story high clear walkway called the Bridge of Sighs. Not only do you get a great view of the ocean, but you can also see straight down to the pool and deck below. It's both terrifying and amazing and makes for some of the best photos of anywhere on the ship.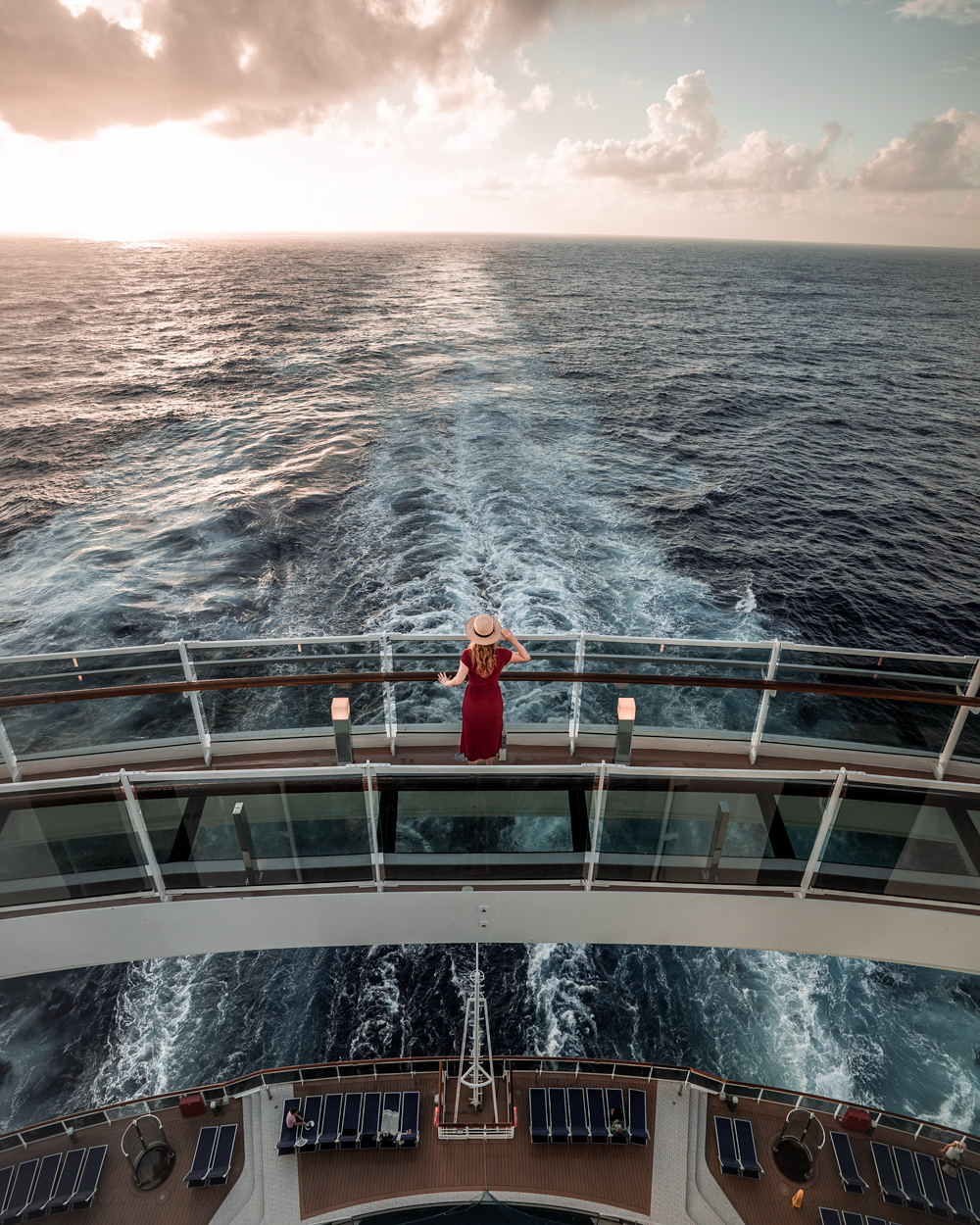 Zip Line
As if walking across the bridge wasn't exciting enough, we decided to go up 4 more flights to the absolute top of the ship and take a ride on THE LONGEST zip line at sea! It was amazing soaring over everyone partying at the pool and kids playing in the Adventure Park - we just hope the music playing below was loud enough drown out our squeals of terror and excitement.
Bowling
Are water slides and zip lines a bit too extreme for your chill vacation vibe? No problem, because they actually have a bowling alley onboard! You can grab a drink from any of the nearby bars and knock down pins to your heart's content. Just make sure to reserve a spot early to make sure you don't miss out!
Spa
After a day of sun and excitement, we decided to calm things down a bit and head to the spa - yes you read that right, in addition to the zip line, bowling alley, and water park, there's also an entire spa onboard witch all sorts of treatments available from massages to facials to hair cuts. We opted for a 30 minute massage but definitely recommend splurging and going for a 60 or 90 minute session - we promise you won't regret it!
Metropolitan Theater
Our final adventure of the day was taking in a show at the Metropolitan Theater. We'll never understand how cruise ship performers can flawlessly master singing, dancing, balancing, acting and/or playing instruments all while constantly swaying back and forth. And here we were, feeling pretty dang proud of ourselves for not spilling our drinks on the walk from the bar to our seats, but these performers balanced effortlessly in poses that would be near impossible on land, let alone on a rocking ship! Cheers to you, super-humans!
---
You may have noticed that we missed arguably the best and most important part of the ship - the buffets and bars. Well have no fear, we were so excited and blown away by all the options that we dedicated a whole day and video to the food and drinks onboard. Watch below as we go on a culinary adventure onboard. You're welcome :)
---
We had an incredible week on board the MSC Seaside, and you better believe we'll be sailing with them again soon!
This is a sponsored post for MSC Cruises, but all opinions are my own.