We've been on a lot of hikes since we set off on our epic world journey, but none of them have compared to the lush green landscape and epic views of Northern Ireland.
Warning: Severe wanderlust inducing content ahead!
Belfast's weather is notoriously mild and damp, and the day we hiked the Cave Hill Trail was no different. Luckily, the rain held off except for a brief sprinkle at the summit, but it was more refreshing than a nuisance after the fairly rigorous hike up.
The trail may have been steep and slippery, but the views - some of our favorites of any hike we've done - were so worth it!
If you visit Belfast, you can't help but notice this green sleeping giant north of the city center. And getting there was surprising a breeze. You simply take any #1 bus from the city center and get off at the Strathmore stop. From here, you walk up one block and start following the signs for Belfast Castle. Oh ya, did I mention that the trail starts and ends at a castle?! Because it does.
After exploring the Castle grounds for a bit, we started our ascent up to ruins of McArthur's fort at the top of Cave Hill. The first part of the hike was like walking through a magical jungle. Something reminiscent of Jurassic Park but about 40 degrees cooler and with the happiest dogs rustling in the trees instead of, you know, a t-rex.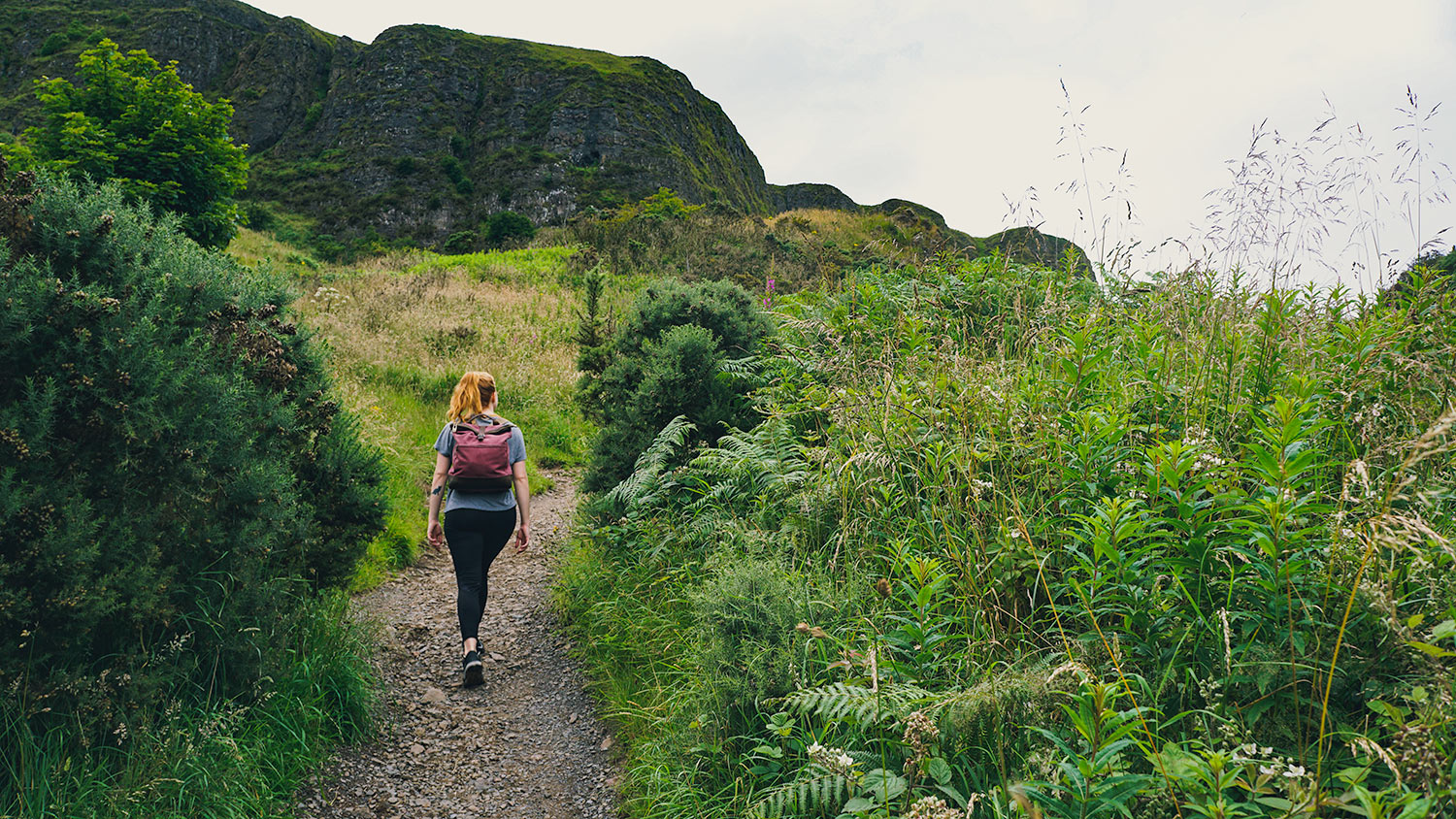 The vegetation is thick, green and a bit muddy, but so pretty! One thing we especially loved about the trail is how raw it seemed. It looked like someone had just freshly created the trail with a machete. Sometimes we weren't sure if we were on the trail or some magical path to Narnia.
About halfway through the hike the trees gave way and the ground became rocky and grassy. That's when we first noticed the breathtaking views the day had in store. To your right is the ocean, with the castle and city center behind you. Don't stop for too many pictures here though. Trust us. It gets a lot better!
From here, it's a short walk to a huge cave opening. Eric was brave (or foolish) enough to climb up into it, but we wouldn't recommend it! The way in is steep and slippery and according to him, it wasn't that big inside. We hear there are two other much more easily accessible caves along the path, but this one was the only one we came across. If you ask someone in the visitors center (located in the castle basement), they can point you in the direction of the other two.
Even though this cave was a little too steep to climb safely, if you're crazy enough to make it inside, it makes for a pretty awesome Instagram picture!
Once you reach the cave, you only have a few more minutes of hiking to reach the summit, but boy is it a doozy! The path is really steep and slippery, alternating between loose rock and steep rocky stairs. You'll definitely want to make sure you have some water handy for this part!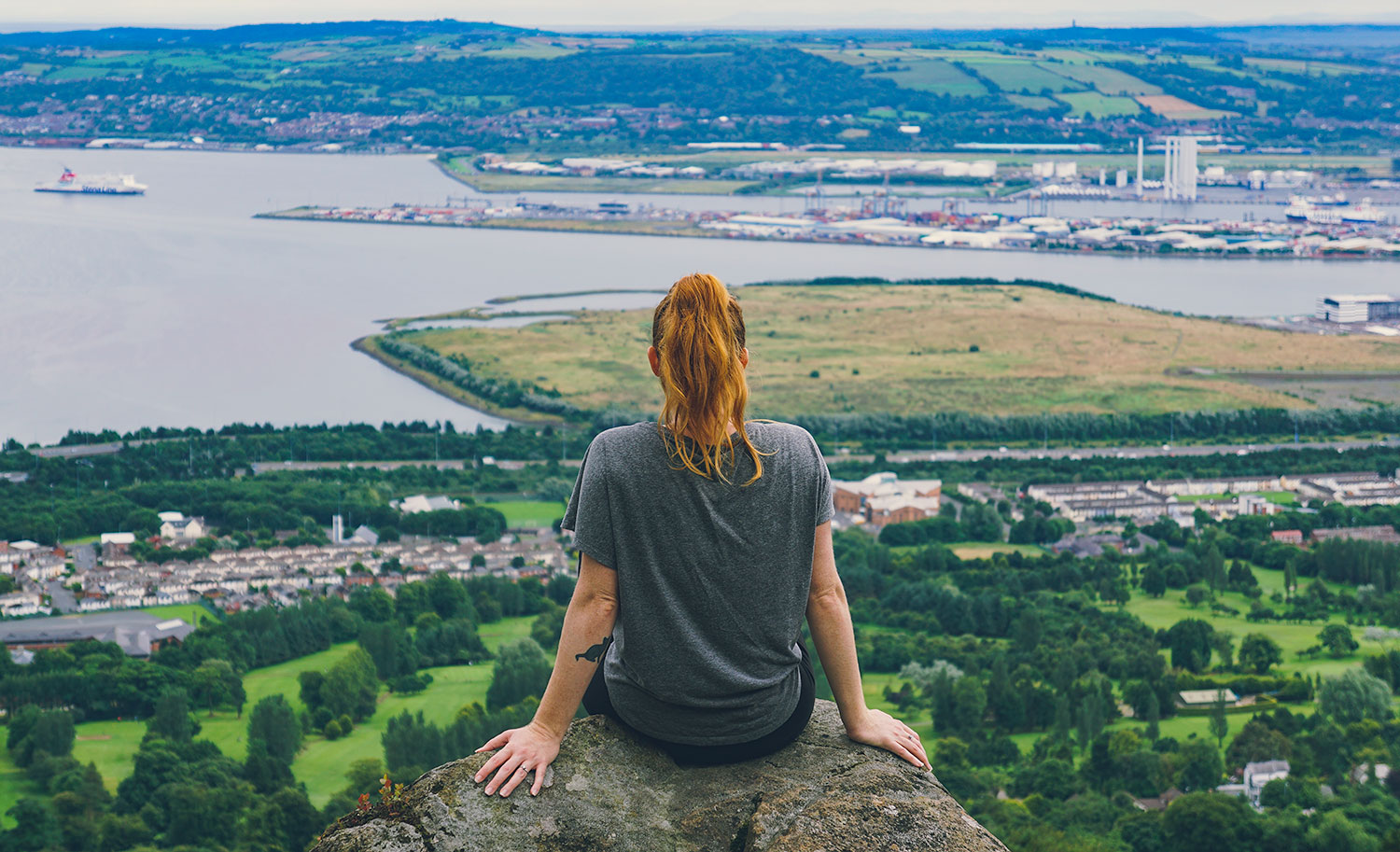 After you get past this almost vertical hike, you'll come up to a gate which is the entrance to McArt's court. And you'll want to go ahead and pat yourself on the back, because you made it!! As a reward, it'll likely be wet and windy at the top which will feel amazing...until you cool off a bit and then you might freeze and hate it. In addition to water, you'll also probably want an extra sweater or jacket.
Once you arrive at the top, make sure to to spend plenty of time taking in the views, peering over the edge (which is a pretty substantial vertical drop) and imagining you're fighting off vikings in an epic movie scene!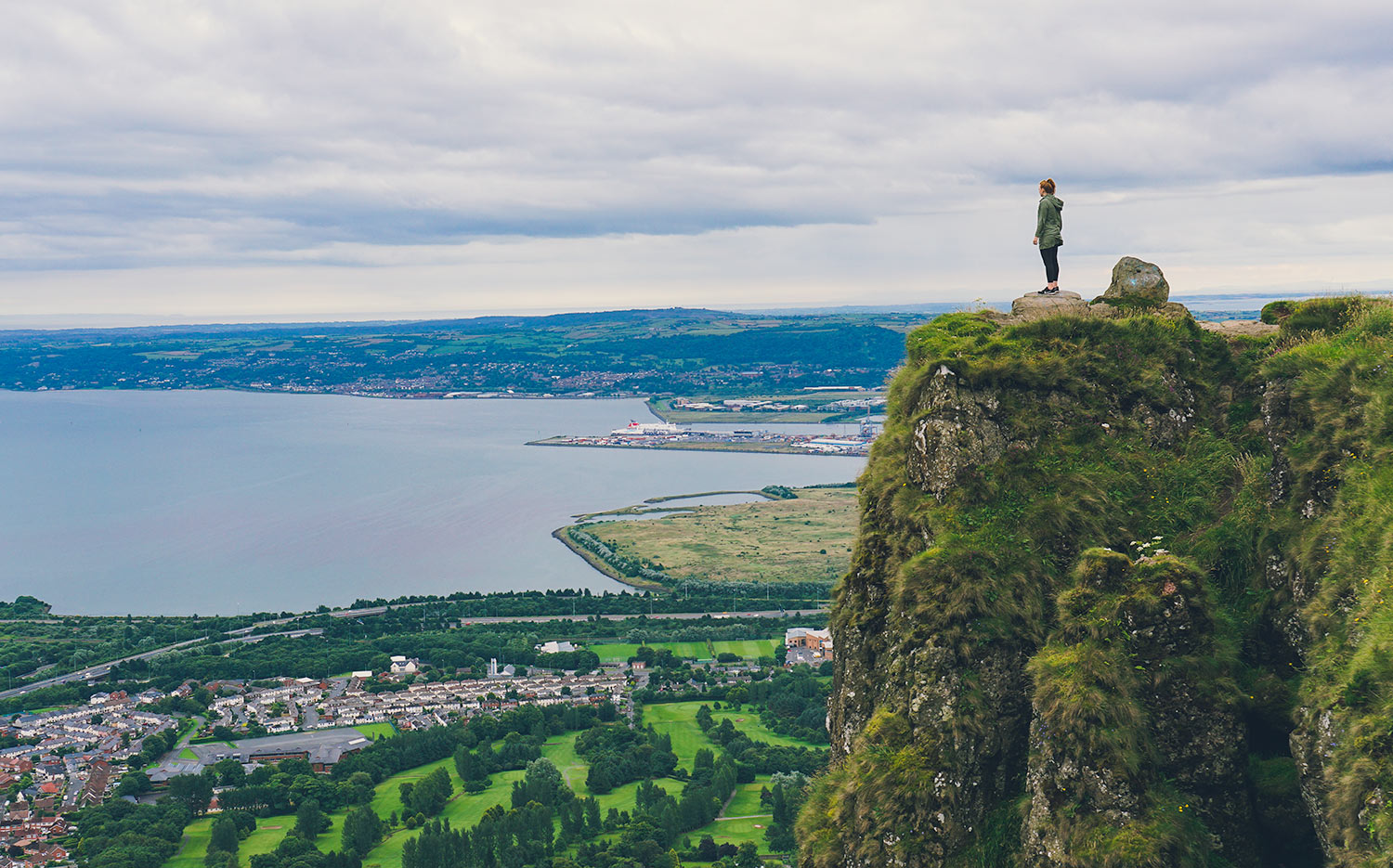 We decided to take the more gradual path down to the right, but it was just as amazing. This path was a more leisurely stroll through beautiful Irish farmland complete with cows, streams and more happy puppies. Eventually you'll start getting into denser vegetation and more of the machete-hacked paths which will bring you back to the castle and the end of your hike.
Even though Cave Hill is by no means the hardest or tallest hike, it is definitely one of the most unique and fun hikes we've done with an absolutely unforgettable view.
---
Have you hiked Cave Hill? Were you able to explore the other caves? If so, what'd you think!?
What are some of the best hikes you've ever done? Let us know know in the comments section below our let us know on Twitter. Thanks for reading!
---
If you want to follow along on our journey, you can subscribe to our YouTube Channel or subscribe to our blog. Thanks for reading, we'll see you on the road!