Do you like horses? What about waterfalls? Hot springs? Ice cream? Volcanic things?
Oh did you actually answer those questions? They were obviously rhetorical, because OF COURSE YOU DO!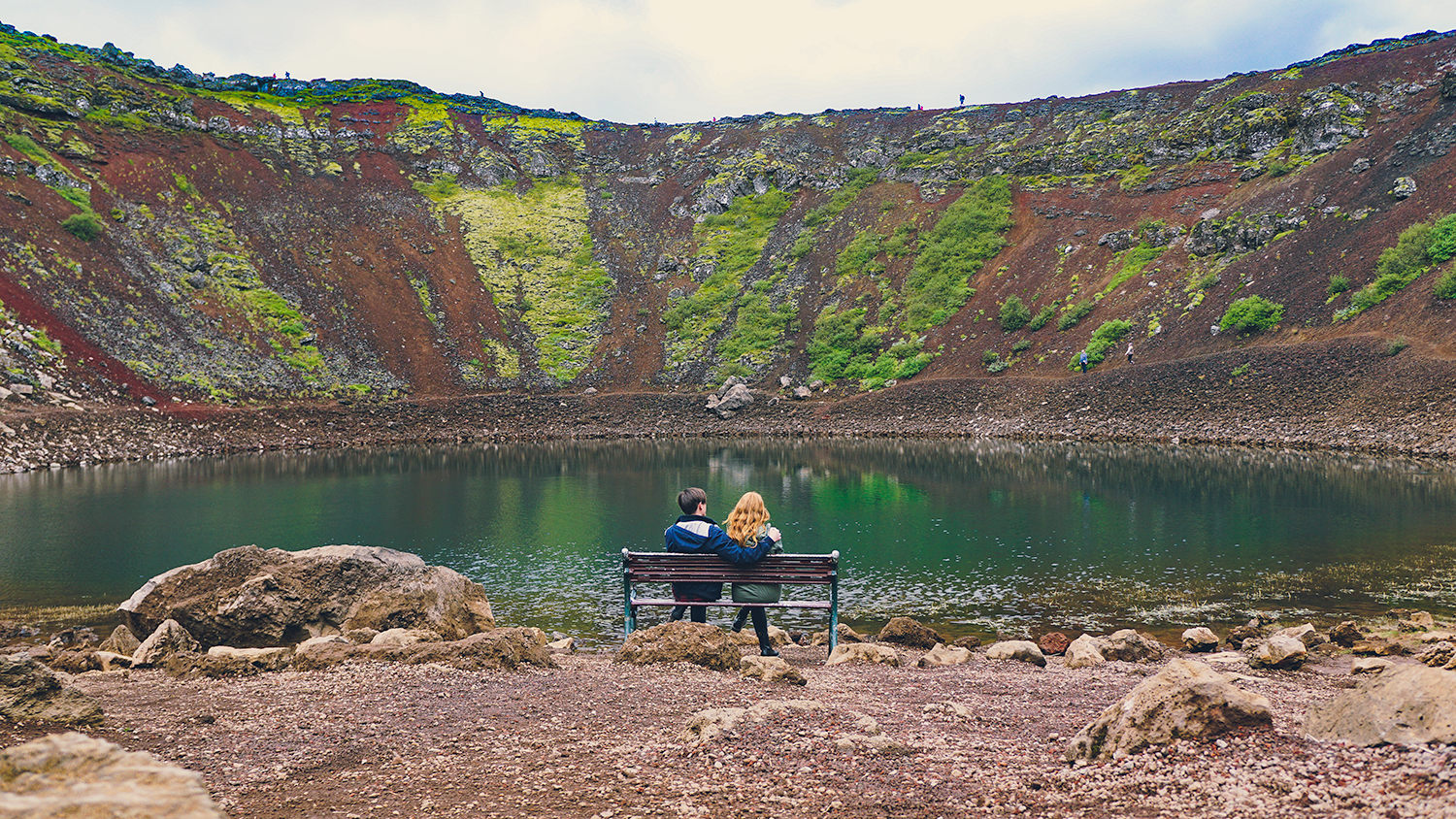 It's been 24 hours (well, depending on when you're reading this probably days, maybe months!) since our drive around Iceland's glorious Golden Circle - not to be confused with the much longer Ring Road (which is now at the tip top of our bucket list!)...
And our minds are still exhausted from being blown so much!
We combined the entire experience into a 1.5 minute video for your viewing pleasure:
But we wanted to do more than just show you the adventure. We want everyone to be able to recreate this magical day for themselves! So we mapped out our detailed itinerary (with pictures) so you can have your own awesome Iceland adventure!
---
The Day
We opted to drive the Golden Circle with a rental car, which we picked up from Enterprise at the BSI bus terminal. You could take a tour bus, but we think that'd be a big mistake! With a car, we were able to stop when and where we wanted and stay as long as we liked. (If you're curious, it cost us ~$142usd for an automatic car with basic insurance… a little pricey but cheaper than an organized tour). Plus, it's always exciting and strangely empowering knowing you survived driving in a foreign country.
If you're looking to rent a car for more than one day, you should absolutely rent from SADcars, which as you might have guessed is a used rental site with really affordable cars. Or if you're really looking to cut costs, you can use Iceland's carpooling site Samferda and split the rental cost/gas with other travelers. Sadly, the gal we reached out to had already filled her spots, but hopefully you'll have better luck!
So we picked up our little tan rental and hit the road around 11am on a Wednesday (ya, we know, we're really bad at getting up early). We went in what we believe was the reverse order - heading to Kerið first and ending in Þingvellir - and somehow never ran into any tour groups! The whole day took us about 12 hours, but the drive is actually less than 4 hours. We just stopped a lot.
The forecast was 100% sunny with 0% chance of rain in Reykjavik, but as we quickly learned, that forecast did not apply outside of the city center. There was rain, sun and clouds and typically all at the same time.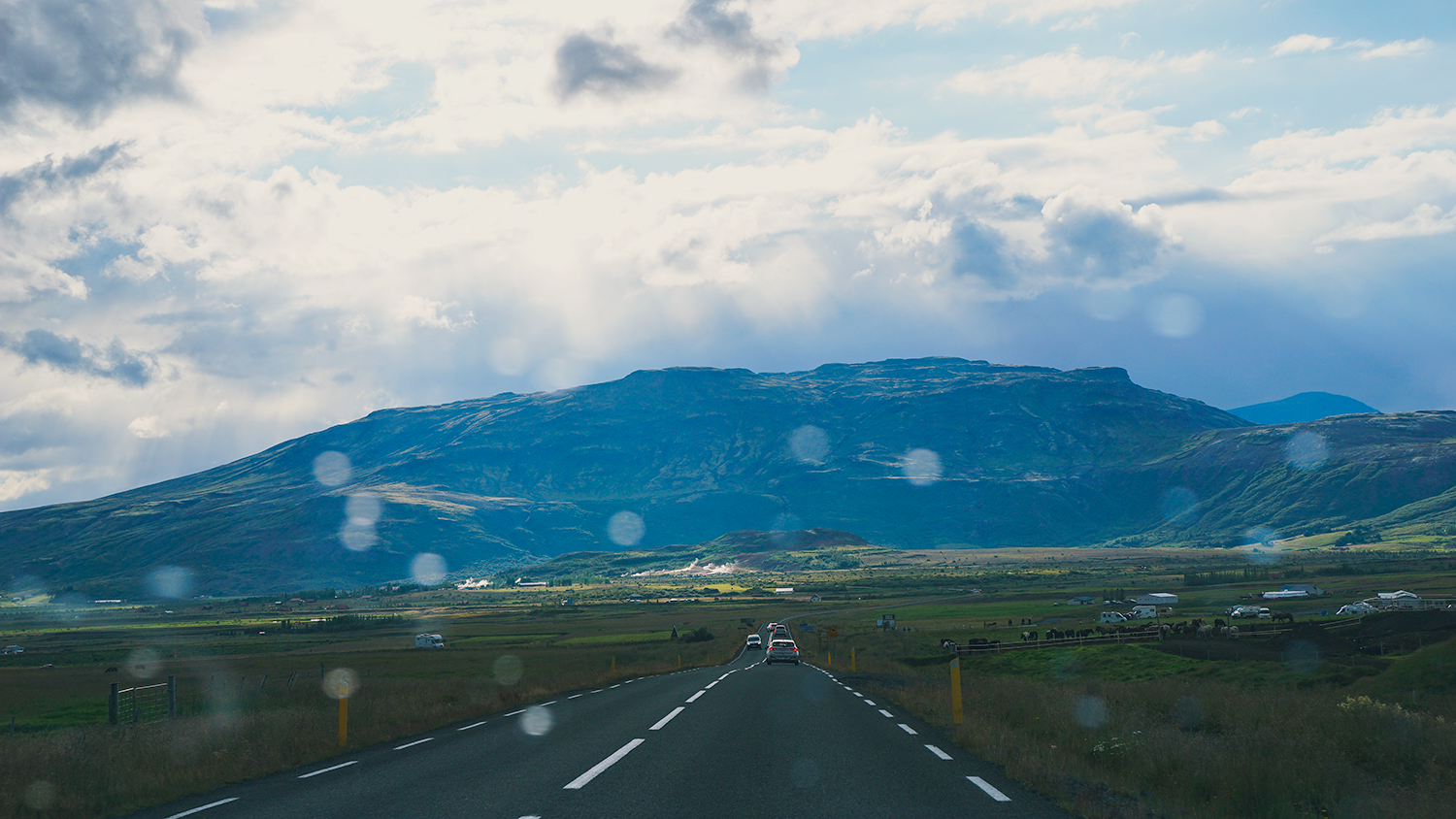 Lesson learned: ideally you want a sunny day for the drive but honestly, it was just as beautiful with a bit of rain. Plus the storms all came and went really quickly, so don't fret if you run into a little shower along the way, it'll be over soon :)
The Route
WARNING: These places might cause your head to explode from the sheer awesomeness.
Kerið
The first stop of the day was Kerið. A volcanic crater lake about 40 mins outside of Reykjavik. You can read more about it here, but the important things to know are it's approximately 3,000 years old, the water level is the same as the water table level and it costs 400kr to enter, making it the only natural attraction that costs anything for the day. Oh and it does not have a restroom, so go easy on the coffee.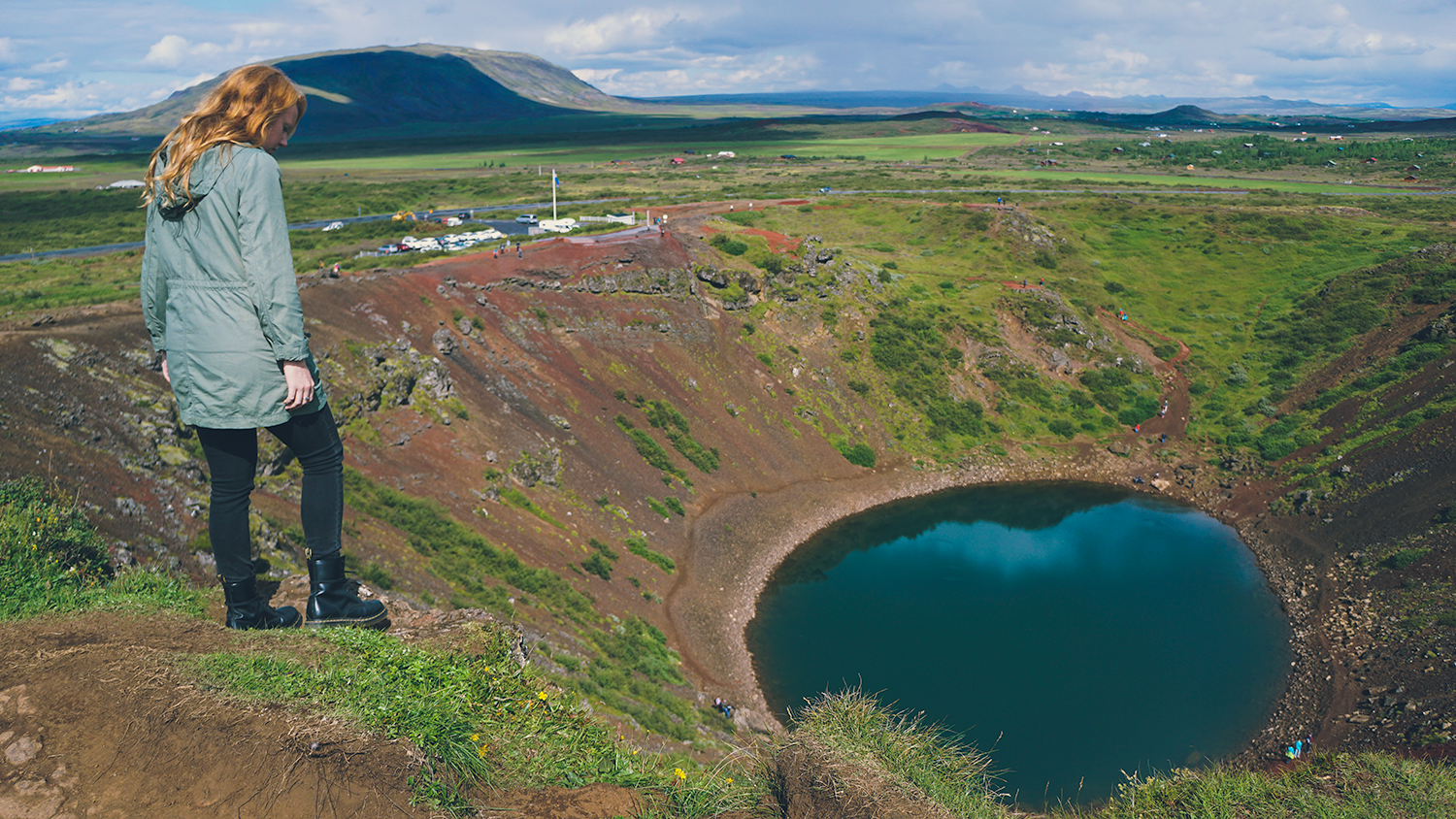 Skálholt
Next up was the historic site of Skálholt. This was a pretty quick stop and just a minute or two off your route. So if old churches, creepy catacombs and amazing views aren't your thing, feel free to drive on.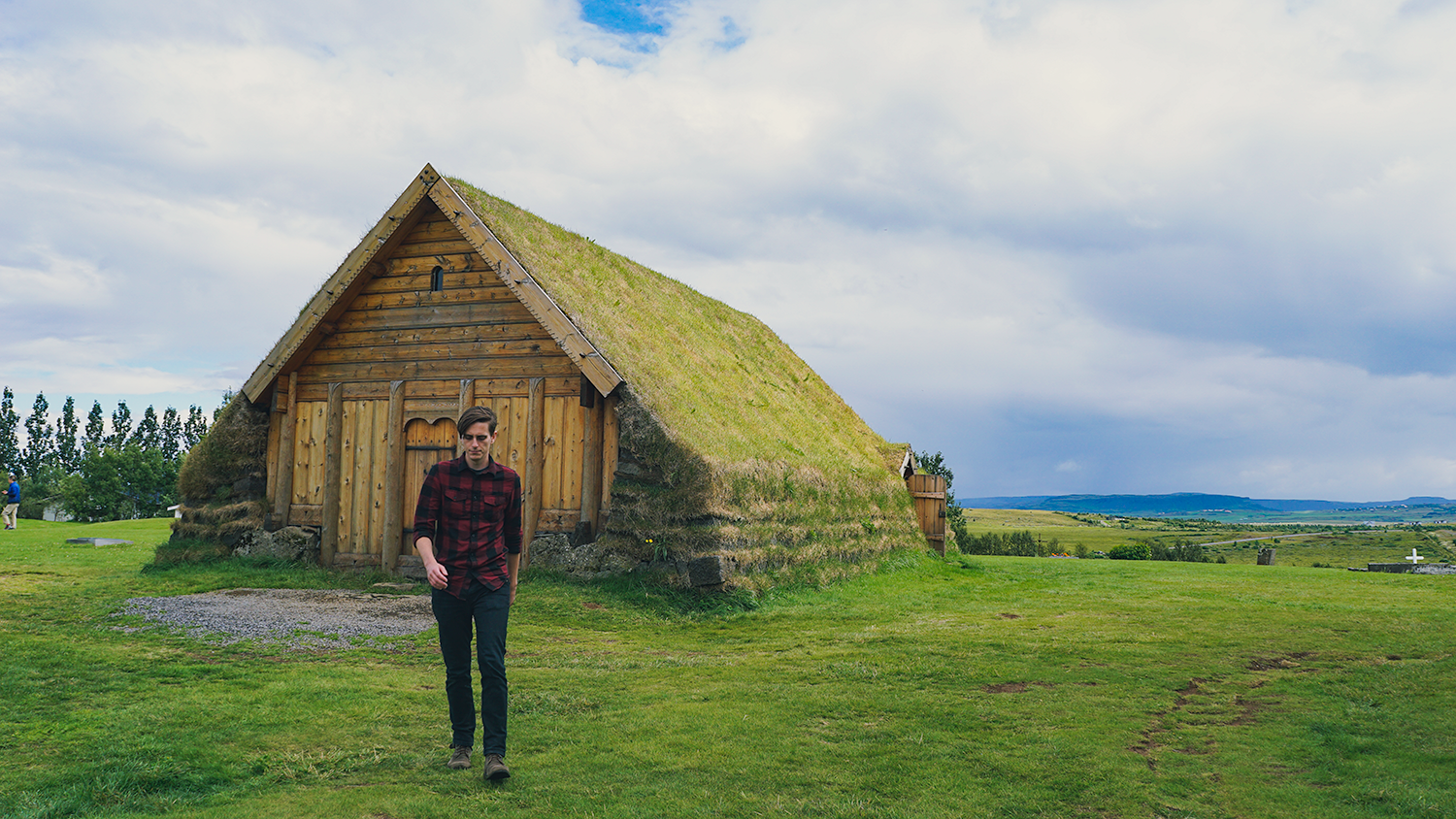 Friðheimar Farm
By now it was almost 2pm and we were getting pretty hungry so Friðheimar Farm was the perfect stop. Friðheimar is a little tomato and horse farm that offers a tomato soup buffet with unlimited soup and bread, inside their greenhouse. Totally random, right?! Bonus: the greenhouse has plenty of restrooms and is super warm!
We were on a pretty strict budget and since the buffet is about $20usd/person, we opted to just buy a package of some of the best tomatoes we've ever had for only $3usd and eat them with our homemade sandwiches outside. So while we can't actually speak for the buffet, we're pretty sure it'd be amazing!
Gamla Laugin
Next up we went to the natural hot spring, Gamla Laugin. And you better believe they require everyone to shower au natural before entering in order to get rid of any potential contaminants (lotions, creams, smelly feet). So prepare to get up close and personal with the people you're traveling with!
The Gamla Laugin, or Secret Lagoon, is the oldest swimming pool in Iceland with a very active geyser and hot springs that feed directly into the pool. Sure, the more famous Blue Lagoon might be one of the most beautiful and magical looking hot springs around, but at a 3rd of the price and with significantly less people, the Secret Lagoon is a great alternative! Plus, the dark water and rustic scenery mixed with the steam give it its own magical vibe.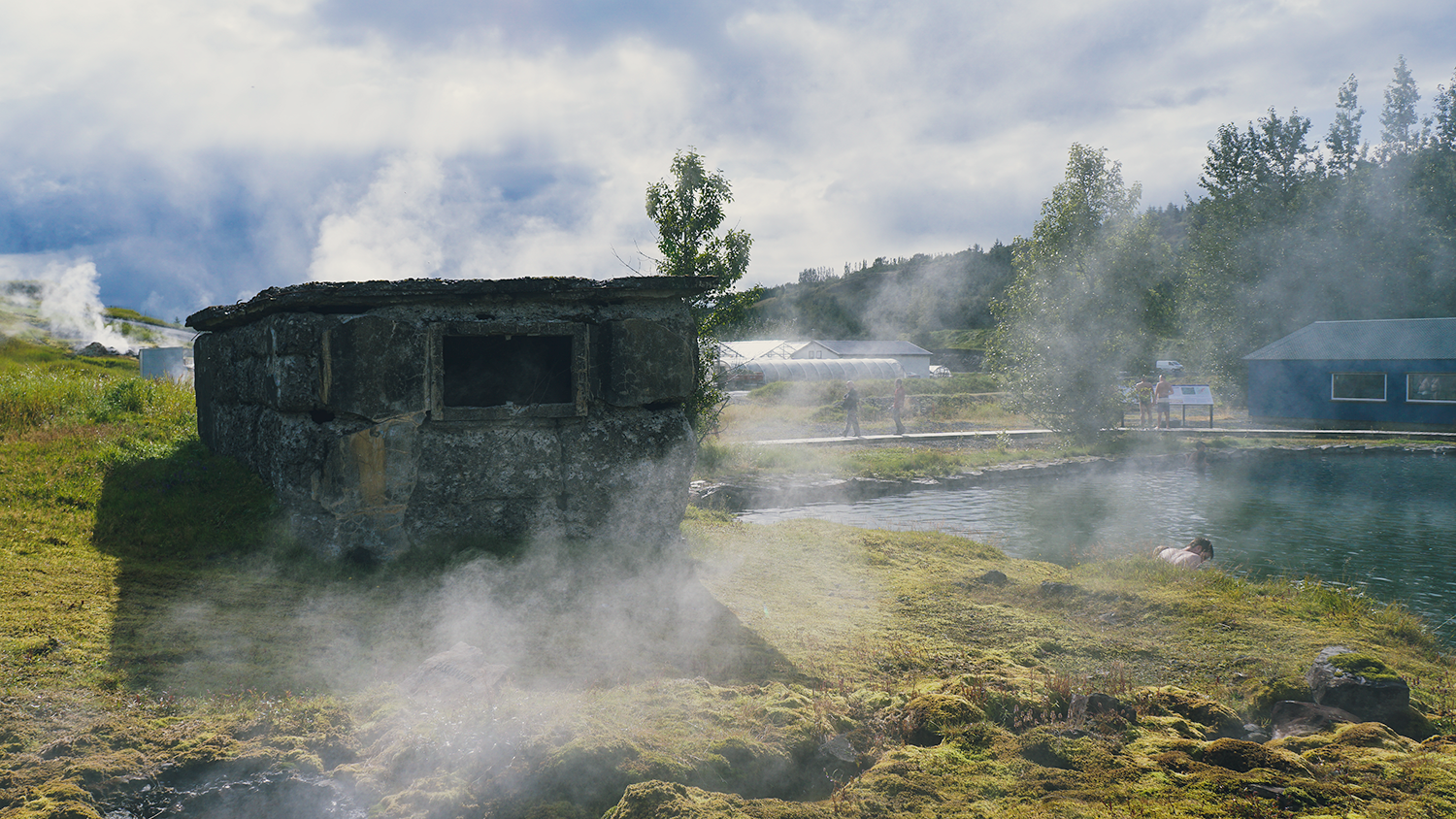 You can enter the hot spring for 2800kr per person,compared to 6800kr at The Blue Lagoon!
Pro tip: You can also rent a towel at the desk for around 500kr, so no need to bring one with you! But do bring a waterproof bag to put your swimsuit in afterwards.
Gullfoss Falls
When you start seeing huge plumes of mist twirling up from the ground, you'll know you're getting close to Gullfoss. The waterfall is fed by Iceland's second largest glacier, Langjökull, which you can actually see as you drive up to the falls. Unfortunately we didn't realize exactly what we were seeing or we would have 100% gotten closer to get a better view, because GLACIER!
The waterfall was by far the most populated spot of the day, but trust us that you'll be too preoccupied by its sheer epicness to notice anyone else. And even with all the people, there were still plenty of parking spots and opportunities to snap great photos.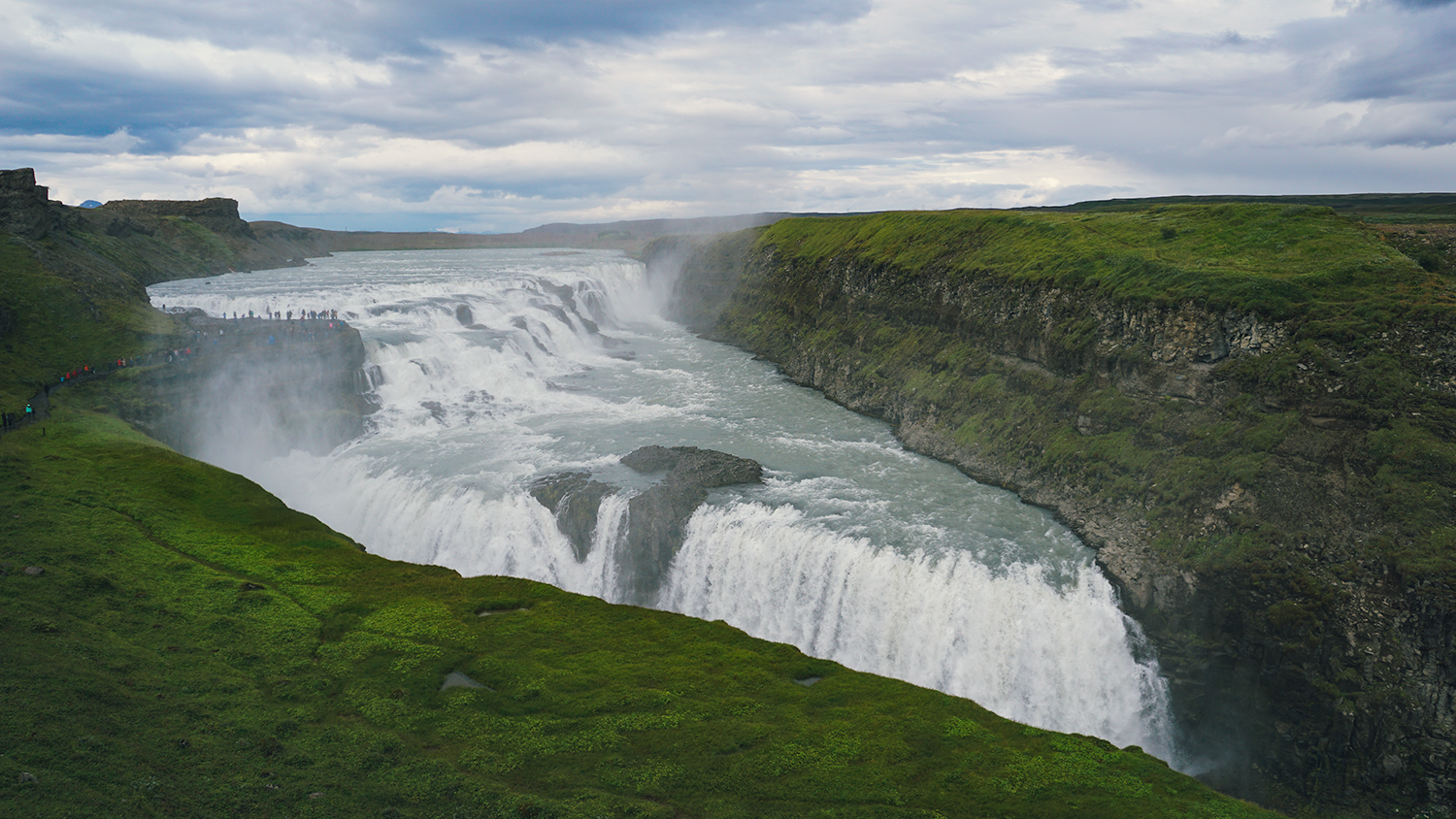 Strokkur Geyser
Just down the road from the waterfall is Strokkur, which is actually located right next to the mother of all geysers, Geysir. Sadly, Geysir isn't very active anymore, but Strokkur on the other hand is extremely active, going off every 8-10 minutes and sometimes shooting up to 40m high! While we were there, it had multiple small eruptions in between the bigger ones - I think it was showing off for us :)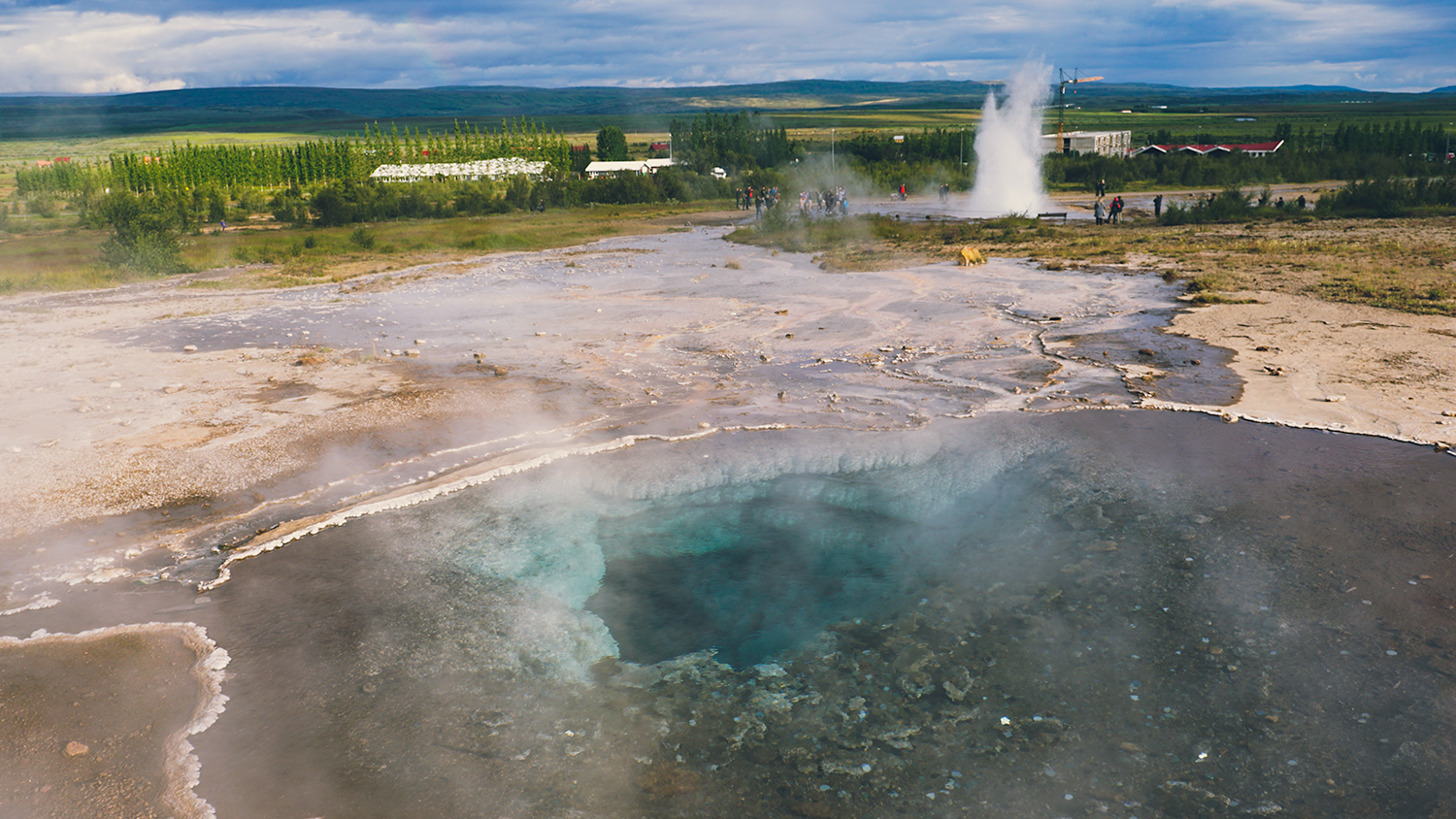 The only drawback to catching the geyser in action is that you have to keep your camera recording for quite some time since you never really know when it's going to blow. This proved to be a bit of a problem for us since we'd used up most of our batteries taking constant videos and pictures all day. Luckily we still managed to get some great shots!
Pro tip: make sure to take a charger with you!
Efstidalur II
Our stop at the Efstidalur farm and restaurant was just supposed to be a quick ice cream stop, but ended up being one of the coolest stops of the day! This cattle and horse farm not only has deliciously fresh ice cream and a full restaurant, but it also has windows into the cowshed where you can watch calves and cows eating and relaxing. If you're lucky, some of the horses will happily greet you at the fence around back for a good ol' fashioned head scratching. At only 400kr for a one-scoop cone, it's too delicious and adorable to pass up!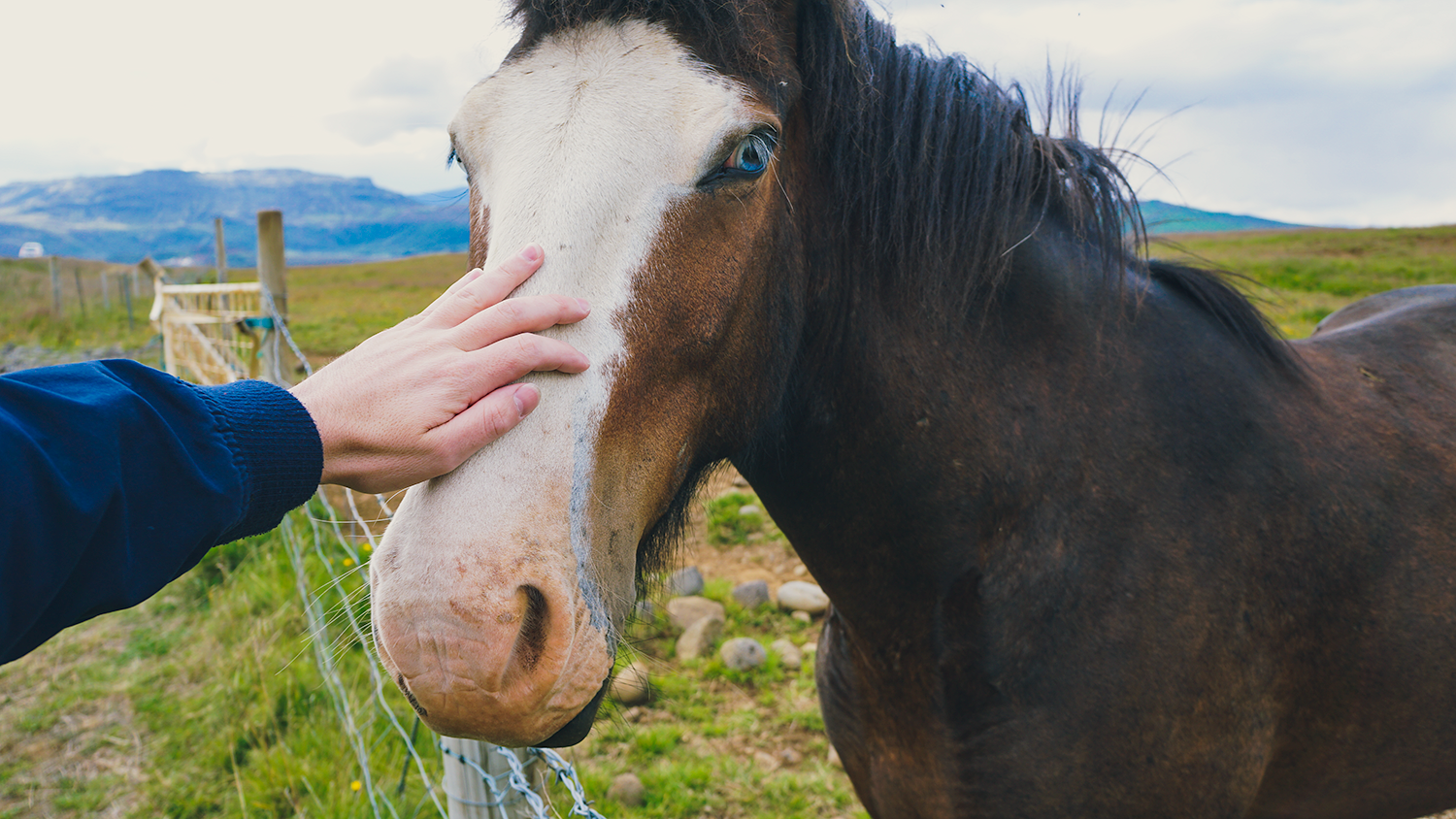 Þingvellir National Park
Our final stop of the day was Þingvellir. Unfortunately it was quite late when we arrived so the visitor center was closed, but the drive through the park was absolutely beautiful. And filled with free-roaming sheep!
The speed limit is a very slow 50km/h, which seems annoying at first, but believe me, it's hard to see those little guys hiding in the bushes and you do not want to accidentally hit one of those ridiculously fluffy creatures.
After Þingvellir, we started the short drive back to Reykjavik which offered some of the most amazing sunset views we've ever seen. Side note, it was well past 10pm at this point and the sun was just starting to set.
Oh how we love the summer sun in Iceland!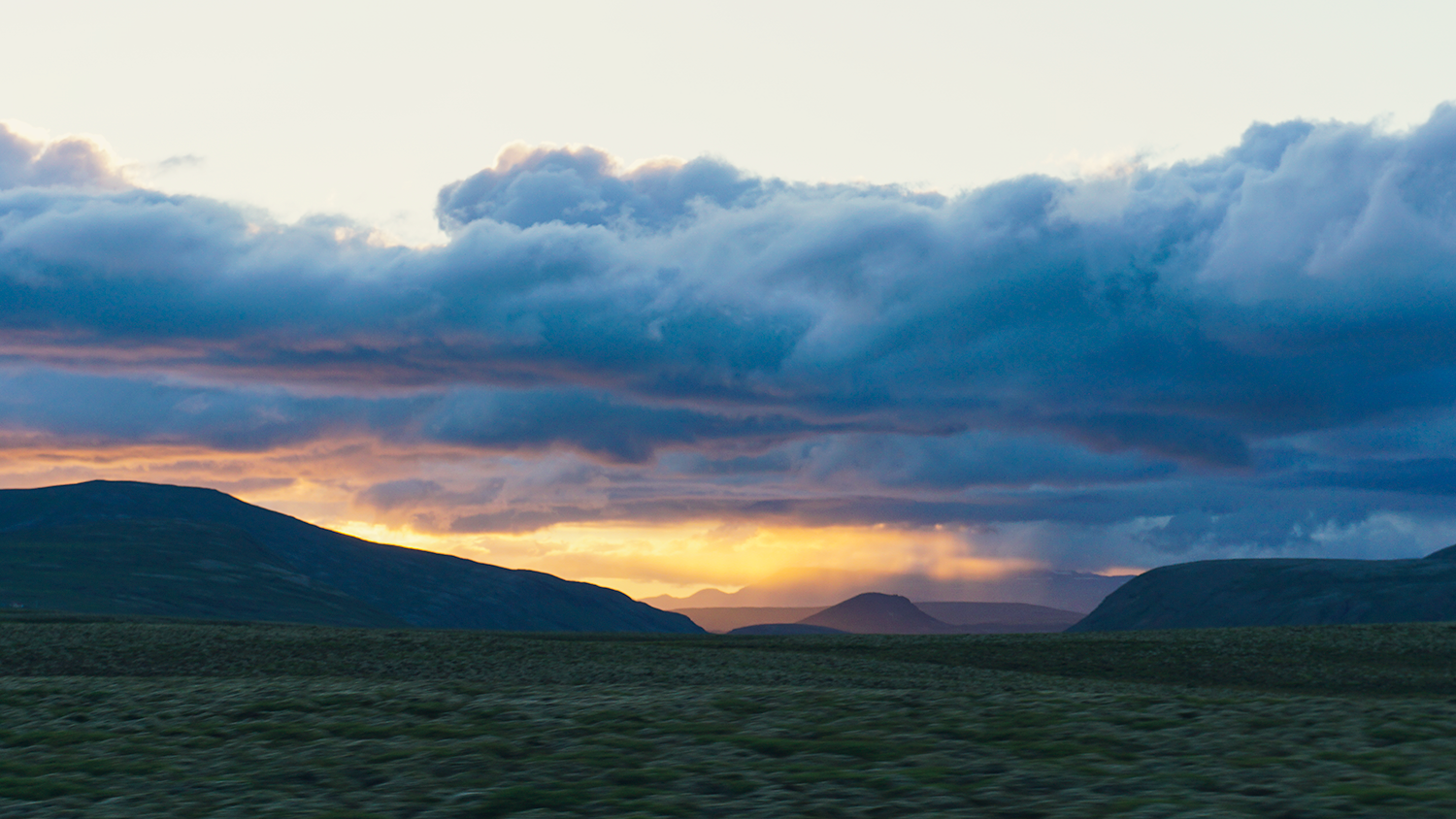 --
Well there you have it! Our amazing jaw-dropping drive through one of the prettiest countries we've ever seen - and we barely even scratched the surface!!
Want even more Iceland eye candy? Check out these awesome pics of Reykjavik!
Since we only had a day, we weren't able to travel completely around Iceland's Ring Road (the road that goes all the way around the island). But it's definitely on our list for next time!
Have you driven the Golden Circle or Ring Road in Iceland? What were the highlights? Were there any spots we missed along our route? Let us know in the comments below or reach out to us on Twitter.
Thanks for reading!
---
If you want to follow along on our journey, you can subscribe to our YouTube Channel or subscribe to our blog. Thanks for reading, we'll see you on the road!